3M National Student Fellowship
3M National Student Fellowship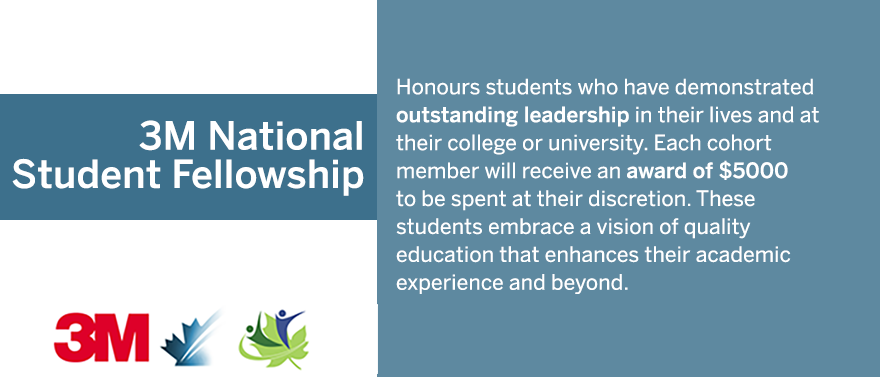 3M National Student Fellowship
For many years, 3M Canada has funded scholarships and awards for undergraduates in colleges and universities across Canada. In 2012, 3M added a student fellowship using the long-standing 3M National Teaching Fellowship Program for university professors as a model. The 3M National Student Fellowship Program arose out of consultations and collaboration with the Society for Teaching and Learning in Higher Education (STLHE) Board of Directors and the Council of 3M National Teaching Fellows Executive
For more information on the 3M National Student Fellowship, criteria and application see: https://www.stlhe.ca/awards/3m-national-student-fellowship/
Call for Nominations – 2017 Award.
The 3M National Student Fellowship honours up to ten full-time students at Canadian post-secondary institutions who have demonstrated outstanding leadership in their lives, at their post-secondary institution. These students embrace a vision of education that enhances their academic experience and beyond.
Deadlines
Students planning on submitting their applications to the 3M National Student Fellowship must fulfill the third requirement under section 2 of the application. In order to obtain a statement from Jana Luker, AVP Student Experience, your nomination package must be submitted electronically, or in person, to the Student Experience department by 4 p.m. on January 25, 2017. Please send your application to wse@uwo.ca, or contact the office at 519-661-2111 ext. 85029. If you wish to submit your application in person, we are located in the Western Student Services Building, room 2120. Nomination packages submitted after this deadline will not be guaranteed a letter.