Western's Orientation Strategic Plan
Western's Orientation Strategic Plan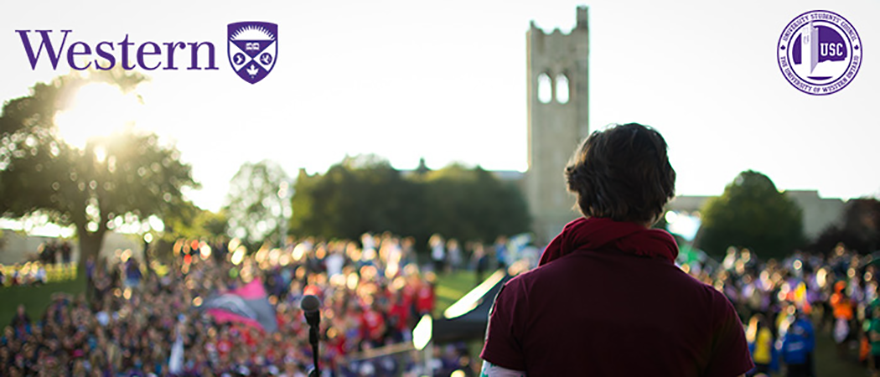 Western's Orientation Program last renewed its goals and vision in 2003. With ongoing expansion of Western's exceptional Orientation program, and changing needs of our diverse incoming students, Western's Orientation Governance Board in collaboration with the Orientation Planning Committee initiated the development of a new strategic plan in Spring 2015. This website will provide you with updated information about the development of the plan including ways to get engaged and provide your input.
Background Information
Click here to download a copy of Western's Orientation Strategic Plan, which was approved by the Orientation Governance Board in November 2016.

Community Engagement Process
In Spring 2015, Western University and the University Students' Council initiated the development of a new strategic plan for Orientation, which will update the last strategic plan that was launched in 2003. In the following year, we hope to collect information from key members of the University community, which will inform the development of the new strategic plan. The following information indicates how and when members of the University community will be engaged throughout this process.
Date

Event / Engagement Opportunity

Who?              

Spring 2015

Initiation of Strategic Planning Process

Western University and University Student Council Representatives

June 25, 2015

Orientation Strategic Planning Summit

Opportunity for members of the University Community to combine for a day of brainstorming and provide information that will form the ingredients of a Vision, Mission, Values and Outcomes

Orientation Planning Committee
Orientation Leadership Teams
Staff Representatives from Western University and Affiliate Colleges
University Student Council
Faculty Representatives

July-August 2015

Crafting the Vision, Purpose, Values and Outcomes

Vision, Mission, Values Crafting Committee made up of members of the Orientation Planning Committee will work to draft Vision, Mission, Values and Outcomes from the data provided at the Summit.

Representatives from the Orientation Planning Committee

September 2015

Sharing the Draft Vision, Purpose, Values and Outcomes

The drafted vision, mission, values and outcomes will be made available to the broader University Community

All sophs, broader University Community

Fall 2015

Survey and Focus Groups:

Focus groups will be hosted with stakeholder groups to collect feedback on the drafted material, and begin to identify priority initiatives. A survey / request for submissions for the plan may also be distributed.

Undergraduate students
Orientation Planning Committee
Soph Teams
Western Staff
University Students' Council
Affiliated Colleges
Faculties (Associate Deans, Academic Counsellors)

Winter 2016

Draft the Strategic Plan

Compile feedback and information from survey / focus groups and draft the strategic plan, Including identification of short and long term goals. Consult with Western University and USC partners throughout this process.

Orientation Planning Committee
Western University and USC Representatives

Spring-Summer 2016

Stakeholder Consultation on Draft Strategic Plan

Share the drafted strategic plan with Orientation Stakeholders.

Fall 2016

Soph Town Hall: Share Draft Strategic Plan


Collect input on the draft strategic plan, and discuss ways of moving forward with operationalizing goals set out in the plan.

Sophs and Orientation Leaders

November 2016

Launch Finalized Orientation Strategic Plan
The Orientation Strategic Planning Committee hosted a summit on June 25, 2015 to collect input from key stakeholders of the Orientation Program (Students, Faculty, Staff). Key themes identified at this summit were identified and consolidated into the Vision, Purpose, Values and Outcomes identified above.
Throughout the day, not takers, facilitators and participants kept notes to help the committee capture all of the input provided. These notes have been transcribed into a full report of input throughout the day. You can
click here
to review transcriptions of all input provided throughout the day.
The Orientation Planning Committee conducts an annual survey of first year students' experiences with the Orientation Program. Survey results are used in planning orientation programming for future years and making decisions related to the Orientation Program. These data will also help inform the development of Western's Orientation Strategic Plan. You can
click here
to view results from the
2015 O-Week Survey
.
Submit your Feedback
Please note that registration is required to participate in a focus group. You can click here to view the focus group schedule and register.
Western's Orientation Strategic Plan - FAQs
Q. What are the next steps in this process?
A. The Orientation Governance Board approved Western's Orientation Strategic Plan in Fall 2016. The Orientation Strategic Planning Committee will be working with current governance structures to develop implementation plans and structures from January - May 2017, with plans to begin full implementation of the multi-year plan in September 2017. A number of priorities articulated in the plan will be, where possible, considered in planning for Orientation 2017.
Q. Who are the members of Orientation Strategic Planning Committee?
A. Members of the Orientation Strategic Planning Committee are:
Sophie Helpard, USC President
Rick Ezekiel, Director of Research Innovation and Evaluation (Student Experience)
Taryn Scripnick, USC Vice-President Student Events
Peggy Wakabayashi, Director of Residences
Eddy Avila, Orienation Coordinator (2014/2015)
Rich Caccamo, Coordinator, Orientation Initiatives
Chris Alleyne, Assistant Director, Residence Engagement
Cassie Anton, Coordinator of Student Engagement Programs, The Student Success Centre
Gwen Lowrie-Dennis, Orientation Program Intern 2015