The Next 36 | Apply Now!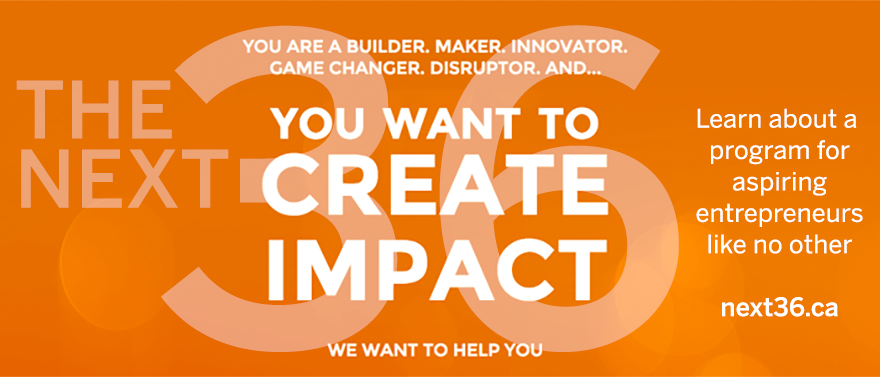 The Next 36 is a program for aspiring entrepreneurs like no other. Broaden your definition of entrepreneurship and see how you can be part of creating an impact in today's world.
The Next 36 accelerates the growth of Canada's most talented young entrepreneurs by providing mentorship, capital, and unparalleled founder development. You and other students with high potential from across Canada and across disciplines are invited to participate in the program and explore a venture or help someone else with theirs.
Once accepted into the program, students receive mentorship from some of Canada's top business leaders, up to $50,000 from leading venture capitalists, and academic instruction taught by world-class faculty from Ivey, Rotman, Harvard, MIT, UBC, and others. Throughout the program, you will have opportunities to meet people who could become clients, investors, and connectors for your venture.
Participants from recent years include eight Western students:
Mallorie Brodie, Steven Wellman, Owen Ou (HBA)
Victoria Hale (History)
Lauren Hasegawa (Civil Structural Engineering)
Nikita Zhitkevich (Interdisciplinary Medical Sciences)
James Crocker (Mechanical Engineering, Computer Science)
Aishi Jiang (Biology)
The call for applications to the 2016 Cohort of The Next 36 is now open to exceptional student entrepreneurs. The program is open to undergraduate and masters students under 30, who have either graduated within the past year or are in their final two years of study.
Important Dates:
Tuesday, October 20th, 2015 - Application Deadline
December 3-5, 2015 - National Selection Weekend (Toronto)
The final application deadline is October 20th, 2015, although invitations to National Selection Weekend are sent out on a rolling basis. FAQ and other background information can be found online at: https://www.thenext36.ca/#faq