Mark Henick - Getting to Know Thyself
Mark Henick - Getting to Know Thyself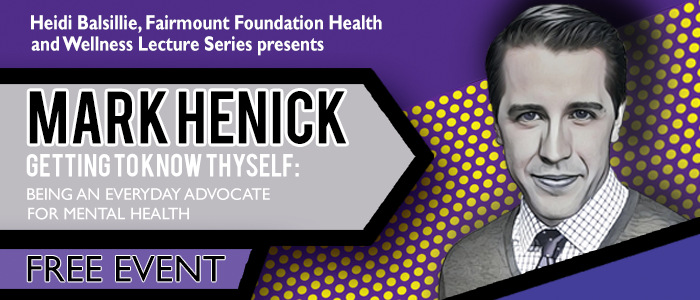 Serving as the youngest ever board member for the Mental Health Commission of Canada, mental wellness advocate Mark Henick will speak at Western University on Monday, October 3, as part of the Heidi Balsillie, Fairmount Foundation Health and Wellness Lecture Series.
1:30pm: Getting to Know Thyself: Being an Everyday Advocate for Mental Health
2:30pm: Question & Answer with Mark Henick
Mustang Lounge West, UCC
Free event, no registration required.
Mark's presentation will run in conjunction with a mental health resource fair in the Atrium of the UCC, featuring on-campus and local services focused on fostering positive mental health and treating mental illness.
Mark is the featured speaker of Western Wellness Week. This week will feature a variety of programming across campus aimed at promoting mental wellness.
We ask that students, staff, and faculty share their experiences on Twitter using the hashtag #WEC and #BeWellWesternU. More information about this event can be found here and at @WellnessWestern.