Art for Impact presents Movies for Mental Health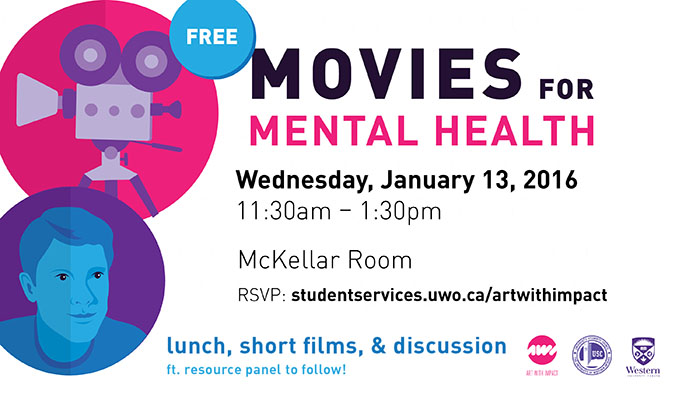 Join us as we welcome "Art With Impact," a North American charity that promotes mental wellness by creating space for young people to learn and connect through art and media. We will be screening three short films created by emerging and social justice filmmakers on the subject of mental health. Each short film screening will follow with a discussion facilitated by Art With Impact in order to break down stereotypes and stigmas surrounding mental illness. Following the screening, a panel will take place consisting of lived experience speakers and campus and community resources, including a panel Q&A.

Come to the McKellar room on January 13th to watch these short films and take part in the panel event to follow. You can order your free ticket here: http://studentservices.uwo.ca/artwithimpact

When: Wednesday, January 13, 2016
Doors Open: 11:00am
Discussion and Film Screening: 11:45am-12:45pm
Panel Event: 12:45pm-1:15pm
Q&A Period Audience and Panelists: 1:15pm-1:30
Where: McKellar Room (Western Film), University Community Centre

Lunch and drinks will be provided. Registration is FREE.

Brought to you by the USC and the Student Experience Portfolio.