Fitness and Nutrition
Learning online is a totally different experience that means you need different strategies and support. Student Experience is here for you and has several online resources and remote supports available.
Resources To Support Your Physical Well-Being
We're putting out fitness content regularly through Instagram. Follow us to stay up-to-date on everything we have going on, and check our website for updates!
Sports and Recreation wants our Mustangs to be able to stay active, so our Western Campus Recreation fitness is going LIVE on Instagram @Western_Rec every day starting March 25, with some of your favourite classes.
We're thinking about all our Mustangs around the world right now!
Note: Please ensure you are exercising safely. If you are new to exercise, it is a good idea to complete this link: http://eparmedx.com/wp-content/uploads/2013/03/PARQPlus2019ImageVersion2.pdf
As well, Harvard Medical School has published an article on 10 tips for exercising safely: https://www.health.harvard.edu/healthbeat/10-tips-for-exercising-safely
Live classes are best streamed through Instagram Live on your mobile device. If you wish to try to view it on a desktop, here is some information about how it may be possible: https://www.makeuseof.com/tag/instagram-live-videos-browser/
We will also be posting different exercise sheets and ways to stay active every day, including individual exercises you can do whenever. 
One of the best things you can do is keep active, if possible.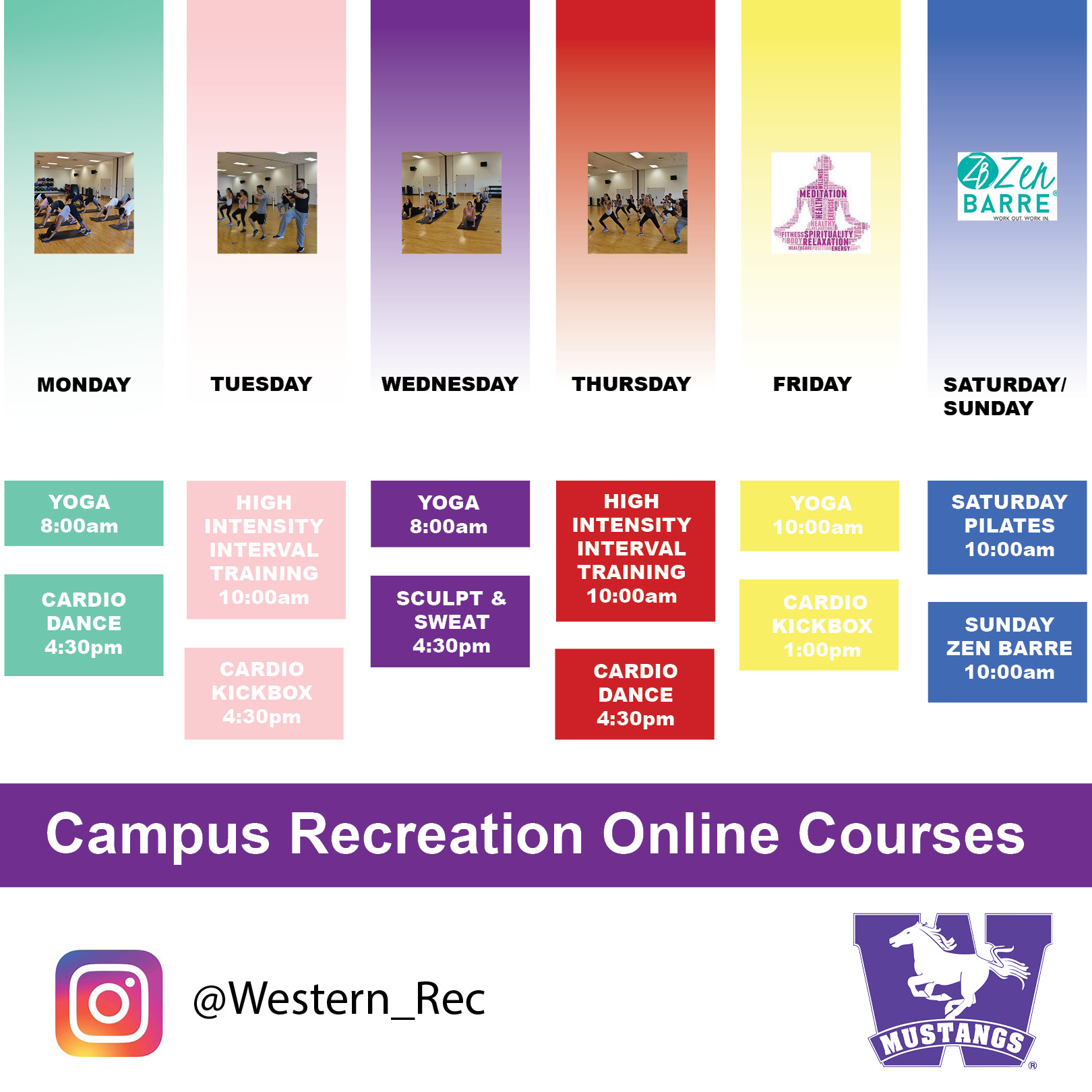 ---
Some additional good workouts that we recommend and that can be found online anytime, include the following.
We will continue to add to these resources weekly.
YOGA WITH ADRIENE
This YouTube channel has free yoga Videos. Everything from beginners to long strength-based flow sessions https://www.youtube.com/user/yogawithadriene

DANALANDGREN 
Instagram account that posts a variety of body weight workouts: https://www.instagram.com/danalandgren/?hl=en 
BOHO BEAUTIFUL 
This YouTube channel has a large number of yoga videos for all skill levels. Bonus is that they are filmed around the world. https://www.youtube.com/user/cexercize/videos
BODY WEIGH WORKOUTS, STRONG BY ZUMBA, HITT, DANCE
Pop sugar fitness has a large number of fitness classes on YouTube. Most require little to no equipment. https://www.youtube.com/user/popsugartvfit
Parent Questions
If you are looking for responses to questions about how your student can receive remote support, please contact Student Support & Case Management at sscm@uwo.ca or by calling 519-661-2111 x89152.